Day one of WrestleMania 36 was weird as hell. For starters, was day one of WrestleMania — the show is for the first time ever split over two days. Second, due to the coronavirus shutdowns, it took place in WWE's Performance Center training facility with no fans instead of the Raymond James Stadium in Tampa, Florida.
And oh yeah, it was main evented by AJ Styles and The Undertaker in a boneyard match. That is to say, not an actual match. A short film. WrestleMania was main evented by a short film. 
Though WWE probably should have just delayed WrestleMania, day one was a fun show considering how much worked against it. The biggest news is that Braun Strowman is Universal Champion after beating Goldberg. Likely the most replayed moment of the night will be Kevin Owens jumping off the WrestleMania sign, crashing Seth Rollins through a table.
With day one done, we now know Sunday's show will be headlined by Brock Lesnar defending his Universal Championship against Drew McIntyre. Edge will also return to face Randy Orton.
Undertaker defeats AJ Styles in a boneyard match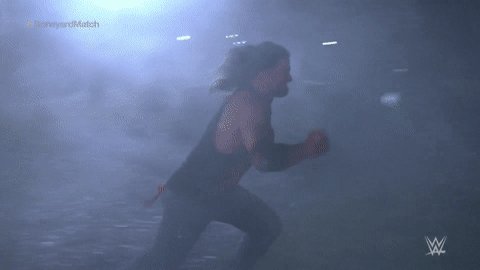 I don't even know what to say about this. The "boneyard match" was essentially an extended fight scene from a movie. It took place by an abandoned estate of some description. Think of it like a buried alive match but in short movie form.
Braun Strowman wins Universal Championship
Braun Strowman, Roman Reigns' replacement against Goldberg, has won his first world title.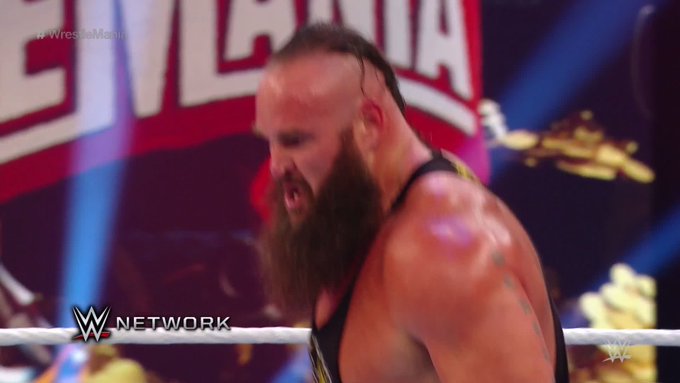 Kevin Owens beats Seth Rollins via DQ
After four months of feuding, Kevin Owens finally takes on Seth Rollins. Rollins was initially disqualified after hitting Owens with a ring bell. As Rollins was walking to the back, Owens challenged him to get back in the ring and finish this as a no disqualifications, no countout match. Rollins accepted.
Kevin Owens got the win after jumping off the WrestleMania sign (!) and then hitting a stunner. It was wild.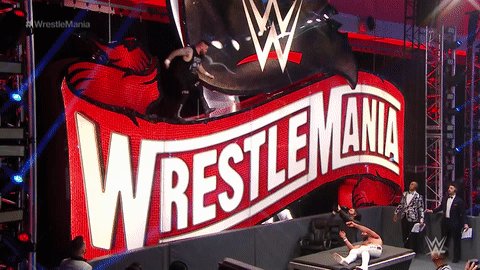 John Morrison retains the SmackDown Tag titles

Unusually, the tag team titles were contested for in a triple threat singles ladder match. John Morrison, Kofi Kingston and Jimmy Uso represented their respective teams (John Morrison and The Miz, The New Day and The Usos), with both titles hanging above the ring.
Sami Zayn retains the Intercontinental Championship
This was a lot of fun until a flat finish. After a stiff match, Sami Zayn defeated Daniel Bryan with a (kind of) Helluva Kick.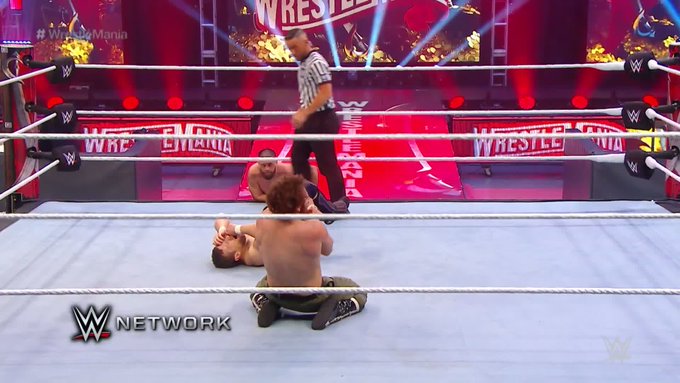 Kickoff Show
Cesaro defeats Drew Gulak in a quick match.